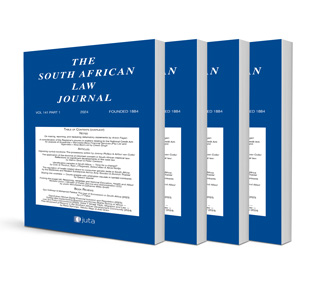 Twelve years after Canada's Access to Medicines Regime: Should South Africa follow the path?
Authors Mélanie Bourassa Forcier, Béatrice Stirner
ISSN: 1996-2177
Affiliations: Professor, University of Sherbrooke, Canada; Researcher, University of Neuchâtel, Switzerland
Source: South African Law Journal, Volume 132 Issue 2, 2015, p. 313 – 339
Abstract
On 30 August 2003, the World Trade Organization decided that eligible countries without manufacturing capacities would be allowed to import generic drugs once they had been issued with a compulsory licence from an exporter country. Canada was the first country to implement this decision in its patent law and subsequently to apply it. Considering the fact that improving drug accessibility is a priority in sub-Saharan Africa, it is relevant for countries with manufacturing capacities, like South Africa, to consider implementing the August 30th decision into their legislation. This mechanism represents an opportunity for South Africa (1) to develop its pharmaceutical industry and (2) to increase drug accessibility in Africa. In exploring this option, the Canadian drug exportation mechanism could serve as a model for legislation in South Africa. In this article we review the Canadian experience, including the weaknesses of the Canadian platform. Based on lessons from this review, we suggest that South Africa should consider implementing a new drug exportation mechanism in its national patent law in order to rebuild its pharmaceutical manufacturing capacities and to improve access to drugs in Africa. In essence, by supplying sub-Saharan African countries, and thus using the compulsory licensing mechanism created following the Pretoria lawsuits, South Africa would close the loop.