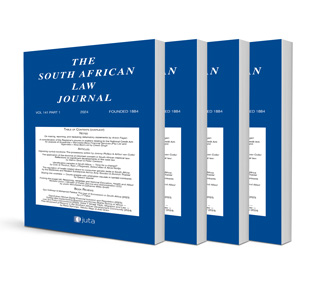 The Insolvency Act's deviation from the common law: Juristic ghost or aggregate approach?
Author: Liesl Hager
ISSN: 1996-2177
Affiliations: Research Assistant, Faculty of Law, University of Pretoria
Source: South African Law Journal, Volume 138 Issue 1, p. 152-170
https://doi.org/10.47348/SALJ/v138/i1a7
Abstract
In this article I engage with the provisions of the Insolvency Act 24 of 1936 regulating the dissolution of the universal partnership upon insolvency. Our common law prefers an aggregate approach to partnerships, meaning that a partnership enjoys no separate legal personality distinct from its composing partners. The lack of separate legal personality of a partnership is described by some academics as a 'remarkable defect'. The Insolvency Act however creates an exception to this general rule by deeming a partnership to be a separate legal entity. The Insolvency Act's deviation from the common-law rule and creation of a 'juristic ghost' is explored in this article. The 'dual priorities' rule, the aggregate theory and the entity theory are explained in this article. Furthermore, the judicial debates about the Act's deviation are discussed. In conclusion, it is suggested that the presumption that legislation does not intend to change existing law should not apply when dealing with the Insolvency Act, as the legislature has expressly deviated from the common-law aggregate approach.