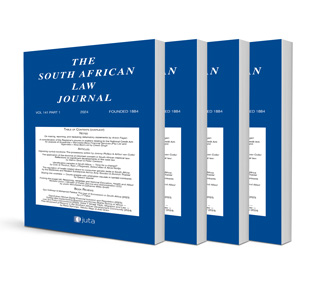 The Cycle of Harmonisation – From Domestic Laws to the CISG and Back?
Authors Karl Marxen
ISSN: 1996-2177
Affiliations: Research Assistant, Centre for Banking Law, University of Johannesburg
Source: South African Law Journal, Volume 132 Issue 3, 2015, p. 547 – 565
Abstract
This article analyses the influence of the United Nations Convention on Contracts for the International Sale of Goods ('CISG') on domestic, regional and supra-national legislative activity. Despite not being drafted as a 'model law', the CISG has assumed an interesting new role in this regard. With its balanced, fair and clearly structured provisions, the CISG must be viewed not only as a final product of legal harmonisation within an international context, but also as a catalyst for further harmonisation and modernisation. Such harmonisation and modernisation can occur at regional, supra-national, and even domestic, level. In this article, evidence which supports this view is presented in relation to the German Schuldrechtsreform, a European Union directive relating to consumer goods, and the Uniform Act on General Commercial Law drafted by the Organization for the Harmonization of Business Law in Africa. Further, benefits and risks pursuant to the new role of the CISG are investigated, and political implications and concerns relating to legal harmonisation and globalisation — especially in the context of developing countries — are set out.