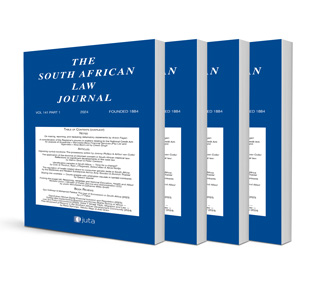 The Constitutionality of the Regulation of Religion in South Africa – Untoward Restrictions of the Right to Religious Freedom?
Author Georgia du Plessis
ISSN: 1996-2177
Affiliations: Postdoctoral Researcher, KU Leuven, Belgium; Research Fellow, Centre for Human Rights, University of the Free State
Source: South African Law Journal, Volume 136 Number 1, May 2019, p. 131 – 164
Abstract
In August 2015, the constitutionally empowered South African Commission for the Promotion and Protection for the Rights of Cultural, Religious and Linguistic Communities launched an investigative study into what it called the 'commercialisation of religion' (the notion that certain religious institutions abuse 'people's belief systems' for financial gain). This was in response to a number of media reports concerning untoward practices by various religious organisations. In the final report relating to the Commission's investigation, a number of recommendations were made, proposing more stringent and formalised regulation of religious institutions within South Africa. The Commission's recommendations received substantial opposition from most religious organisations in South Africa, mostly relating to the fear that these recommendations will result in an unjustifiable limitation of the right to religious freedom. This article provides a brief analysis of the Commission's powers and mandate in order to determine whether the Commission was acting within the scope of its powers. A discussion of the reports and recommendations of the Commission follows, and the proposed organisational structures (and their consequences) are discussed and tested against the South African constitutional framework and jurisprudence pertaining to the right to religious freedom. In conclusion, the legal validity of the Commission's recommendations is investigated in light of the Constitution and international commentary.