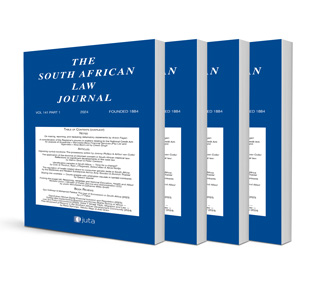 Summary judgment — Quo vadis?
Author: Thino Bekker
ISSN: 1996-2177
Affiliations: Associate Professor in Law, University of Pretoria
Source: South African Law Journal, Volume 138 Issue 1, p. 88-114
https://doi.org/10.47348/SALJ/v138/i1a5
Abstract
The summary judgment procedure in South African law provides for a speedy judgment in favour of a deserving plaintiff where it can be shown that the defendant does not have a triable defence. In 2019 the Rules Board made certain drastic amendments to the procedure of summary judgment in the high court. In this article the historical development of the procedure of summary judgment will be discussed, and the new amendments to rule 32 of the Uniform Rules of Court critically evaluated. It will be argued that the amendments to rule 32 were unnecessary and that it may diminish the right to access to justice in civil disputes. It will, however, also be argued that there are some merits in the critique raised by the Rules Board in relation to rule 32 and that the Rules Board missed a golden opportunity to overhaul the entire summary judgment procedure in a more sensible manner and in line with the core constitutional values of s 34 of the Constitution. It will be argued that rule 32 should be replaced in its entirety by a new, more streamlined procedure, and some recommendations for legal reform will be made in this regard.