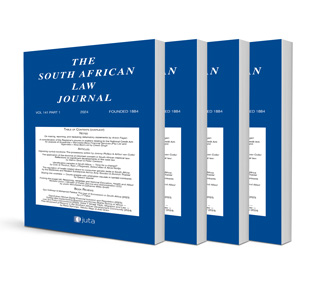 Specificity of Expropriation Statutes as a Safeguard Against Third-Party Transfers for Economic Development: Lessons from German Law for New Expropriation Legislation in South Africa?
Authors Björn Hoops
ISSN: 1996-2177
Affiliations: Faculty of Law, University of Groningen
Source: South African Law Journal, Volume 133 Issue 4, 2016, p. 788 – 819
Abstract
Neither the German Basic Law nor the South African Constitution prohibits an expropriation of property rights in land for the benefit of a private party if the private party uses the land to enhance economic growth and to create jobs. Such third-party transfers, however, pose the danger of abuse of power, corruption, and unfulfilled expectations, particularly when effected at local level. The specificity of the statutory basis of an expropriation determines how much freedom the expropriation authority has in determining the project and purposes for which property is expropriated. More specific statutes are therefore a means to contain those dangers. South African law, however, does not make use of this instrument. On the contrary, expropriation statutes generally contain highly abstract purposes, thereby granting the expropriation authority a lot of scope for manoeuvring. German constitutional law, by contrast, compels the legislature to define narrowly the projects and purposes for which property can be expropriated. Indeed, German law is so strict that there are only project-specific statutes that permit a third-party transfer for economic development. It is submitted that the South African legislature should follow the German model when drafting new expropriation legislation.