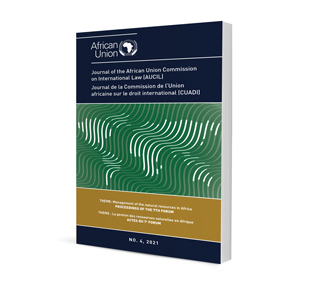 Report of the 7th forum of the African Union Commission on International Law / Rapport du 7e forum de la Commission de l'Union africaine sur le droit international
Author: Kathleen Quartey Ayensu
ISSN: 1821-8962
Affiliations: LL B (Hons), LL M, M Comp L
Source: Journal of the African Union Commission on International Law 2021, p. 355-422
https://doi.org/10.47348/AUCIL/2021/a10

Abstract
INTRODUCTION
The African Union Commission on International Law (the AUCIL) was established as an advisory organ on the basis of Article 5(2) of the Constitutive Act of the African Union. On February 4, 2009 the Executive Council of the Union adopted the operational Statute of the AUCIL.
The objectives of the AUCIL, inter alia, are to undertake activities relating to the codification and progressive development of international law on the African continent with special reference to the laws of the Union, including African customary law arising from the practice of Member States (Article 4(4)). Furthermore, the AUCIL shall cooperate and collaborate in the teaching, study and dissemination of International law and African Union law, with universities, institutions and other educational and research bodies, and lawyers' associations (Article 9).
For several years now, the AUCIL has held an annual Forum as a means to fulfill these goals. The AUCIL convened its 7th Forum on 10 and 11 December, 2018, at the African Union headquarters in Addis Ababa, Federal Democratic Republic of Ethiopia. The Theme for the Forum was, "MANAGEMENT OF AFRICA'S NATURAL RESOURCES''. This theme was deliberated on the context of African Union Agenda 2063.
Officers for the Seventh Forum were:

Chairman of Forum: Hon Judge Ismael Abdi Hersi, Vice-Chairperson of AUCIL
Rapporteur General of Forum: Hon Kathleen Quartey Ayensu, AUCIL Commissioner
In attendance: Ag Executive Secretary, Dr Guy-Fleury Ntwari, and selected Attorneys from the Office of the Legal Counsel, African Union Commission.