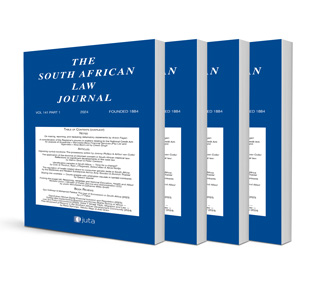 On equating 'mays' with 'musts': When can a discretionary power be interpreted as a mandatory one?
Author: Lisa Draga
ISSN: 1996-2177
Affiliations: Lecturer, School of Law, University of the Western Cape, LLB (Western Cape) LLM (University of Missouri, Columbia)
Source: South African Law Journal, Volume 138 Issue 3, p. 649-681
https://doi.org/10.47348/SALJ/v138/i3a9
Abstract
In this article I investigate when the otherwise permissive term 'may' in an empowering provision can be interpreted as imposing a duty on the recipient of that power to act. In the first part, I examine our courts' pre-democratic approach to answering this question through an analysis of pre-democratic judgments. In particular, I scrutinise certain factors that the courts have traditionally relied on in this regard. Thereafter, I consider the present-day rules of statutory interpretation and its application to the may/must question. Next, I analyse the Constitutional Court's approach to determining when the use of 'may' to confer a power through statute can be interpreted as requiring the power be exercised. I undertake an analysis of a dissection of relevant Constitutional Court judgments. These judgments are dissected for purposes of illustrating the continued relevance of the traditional factors that were employed before democracy. Finally, I focus on the may/must question in the typical public-law context of this interpretative exercise. I examine potential grounds of review where the holder of the power has failed or refused to execute a duty attached to permissive language. I also consider separation-of-powers concerns that may likely arise.