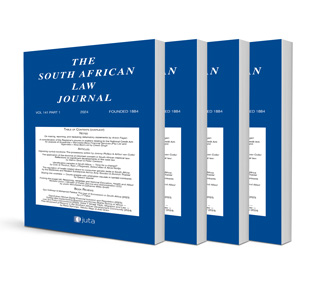 Note: Multi-tiered dispute resolution clauses — Peremptory steps or too vague to matter?
Author: Brendan Lyall Studti
ISSN: 1996-2177
Affiliations: Advocate, Cape Bar
Source: South African Law Journal, Volume 139 Issue 3, p. 511-526
https://doi.org/10.47348/SALJ/v139/i3a2
Abstract
Multi-tiered dispute resolution clauses in agreements in South Africa are prevalent. In many instances these clauses provide for a sequence of dispute resolution processes, often commencing with negotiation, followed by mediation, and then, finally, arbitration. Arbitrators and parties to these clauses need to consider whether the preconditions to arbitration are sufficiently certain to be enforceable and whether they have been fulfilled. The issue has received little attention in South Africa but there is a considerable body of foreign case law on the topic. According to foreign precedent, it must be determined whether the interim steps preceding arbitration are conditions precedent to arbitration, and, if so, whether they are enforceable. This entails, in part, assessing whether the clause in the agreement is of sufficient certainty for a court to ascertain whether it has been complied with. This note presents an exposition of the foreign case law and demonstrates how the position in foreign jurisdictions is consistent with the law in South Africa. It also aims to set out the minimum requirements for an interim negotiation or mediation clause to be enforceable as a precondition to arbitration.