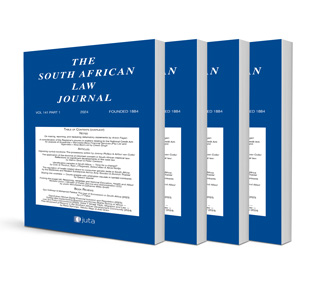 Form and substance in the Constitutional Court: Whither contract law's policy after apartheid?
Author: Jaco Barnard-Naudé
ISSN: 1996-2177
Affiliations: Professor of Jurisprudence, Department of Private Law, University of Cape Town, BCom LLB LLD (Pretoria) MA (Cape Town).
Source: South African Law Journal, Volume 138 Issue 3, p. 569-598
https://doi.org/10.47348/SALJ/v138/i3a6
Abstract
This article enquires into commitments of substance and form in contract law after apartheid. The argument begins with an overview of the substance and form argument as presented by Duncan Kennedy in 1976 and applied to the South African law of contract by Alfred Cockrell in 1992. Kennedy and Cockrell's argument that commitments of form follow commitments of substance in private-law adjudication generally, and in contract-law adjudication specifically, is mapped onto Karl Klare's 1998 argument that transformative constitutionalism necessitates a commitment to the 'postliberal' in both formal and substantive terms. The argument then proceeds to a reading of the majority judgment in the Constitutional Court in Beadica 231 CC & others v Trustees for the time being of the Oregon Trust & others. The discussion illustrates how form still follows substance in the South African law of contract in a constitutional era, and how the privileged policy position remains that of rule-based formal commitments and individualist substantive commitments. The article concludes with the assertion that the dominance of the individualism/rules position is inconsistent with transformative constitutionalism's commitment to a postliberal legal order.