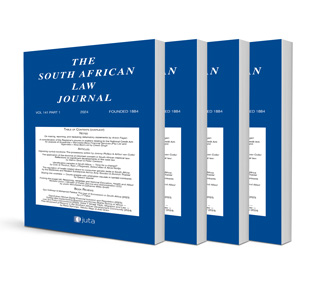 Commercial Certainty and Constitutionalism: Are they Compatible?
Authors Malcolm Wallis
ISSN: 1996-2177
Affiliations: Judge of the Supreme Court of Appeal
Source: South African Law Journal, Volume 133 Issue 3, 2016, p. 545 – 568
Abstract
The need for reasonable commercial certainty about the content of commercial law is central to the operation of the economic system of both South Africa and the world. Without it the outcome of commercial transactions becomes speculative and this is a disincentive to trade. The article explores a concern that the jurisprudence of the Constitutional Court has introduced a level of uncertainty into aspects of the law of contract and commercial law generally, and warns that the effect of such uncertainty will be to drive commercial litigation away from the courts into arbitral forums that are seen as more predictable in their outcome. This is bad for the development of commercial law and ultimately excludes the constitutional development of the common law. The author contends that the application of constitutional norms in the context of commercial law does not need to generate uncertainty and suggests how the Constitutional Court can dispel this impression.